Music sheet / Partition : Mad dog and clever cat for female choir and piano by tapio sayppo
Mad Dog and Clever Cat for female choir and piano Part 1 – Elegy on the Death of a Mad Dog Part 2 – The Clever Cat 58 pages, duration ca. 27 minutes (part one 16 minutes 6 seconds, part two 10 minutes 44 seconds). The provided MP3 instrumental demo contains both parts. Because Mad Dog and Clever Cat contains several significant force, emotion and intensity changes, it is highly recommended that, if possible, the provided audio demo is listened completely from beginning to end. ISMN 979-0-9001707-4-3 (wire bound) ISMN 979-0-9001707-5-0 (PDF) ISMN 979-0-9001707-6-7 (CD-ROM) Even though any PDF is of course fully sizable to match capabilities of any printer, 10 PDF paper sizes are readily available to be used around the world: Ansi B Ansi C ISO A3 ISO A4 ISO B3 Legal Letter Music Concert Music Part (A) Music Part (B) Excerpts of the official Mad Dog and Clever Cat press release: SAYPPO GIVES LIFE TO TWO DECEASED POETS According to composer Tapio Sayppo, the creator of 'Mad Dog and Clever Cat', he in summer 2010 found two interesting books of poetry in English in a library in Helsinki, Finland. In those books, two poems were strongly 'talking' to him, 'Elegy on the Death of a Mad Dog' by Oliver Goldsmith (1730–1774) and 'The Clever Cat' by Mary Hannay Foott (née Black) (1846–1918). He decided to compose them. In February 2017 he completed the creation after working on it for a very long time. Mr Sayppo talks about the poems. '"Elegy on the Death of a Mad Dog" in a nutshell: In a town there was a man considered to be kind and gentle. A stray dog went mad and bit him. People swore the man would die. But the man recovered of the bite, and the dog died! (What an allegory.) "Clever Cat" in a nutshell: There was a hungry cat called William, the poorest ever seen, who did not go a-mousing, but only played the tambourine. One day he met a female cat, Princess Felina of Catland, who fell in love with him and his tambourine. They started dancing and from then on, she gave him as much food as he wanted. Now there is a cat, the fattest ever seen, who need not go a-mousing, but only plays the tambourine.' Sayppo says: 'The beauty of this project is how art can be a bridge, connecting people living today, like you and I, with these two great poets who passed away a long time ago, making their fantastic poems, their words, their thoughts, and in a way themselves, alive again. When composing this music, I almost felt their presence. I imagined them writing their lines, perhaps in darkness with a candle on their tables. I am very glad, actually honoured, to have made them remembered again. They deserve it. Now the poems of Oliver Goldsmith and Mary Hannay Foott will be sung by fine female choirs and played by their fine pianists around the world.'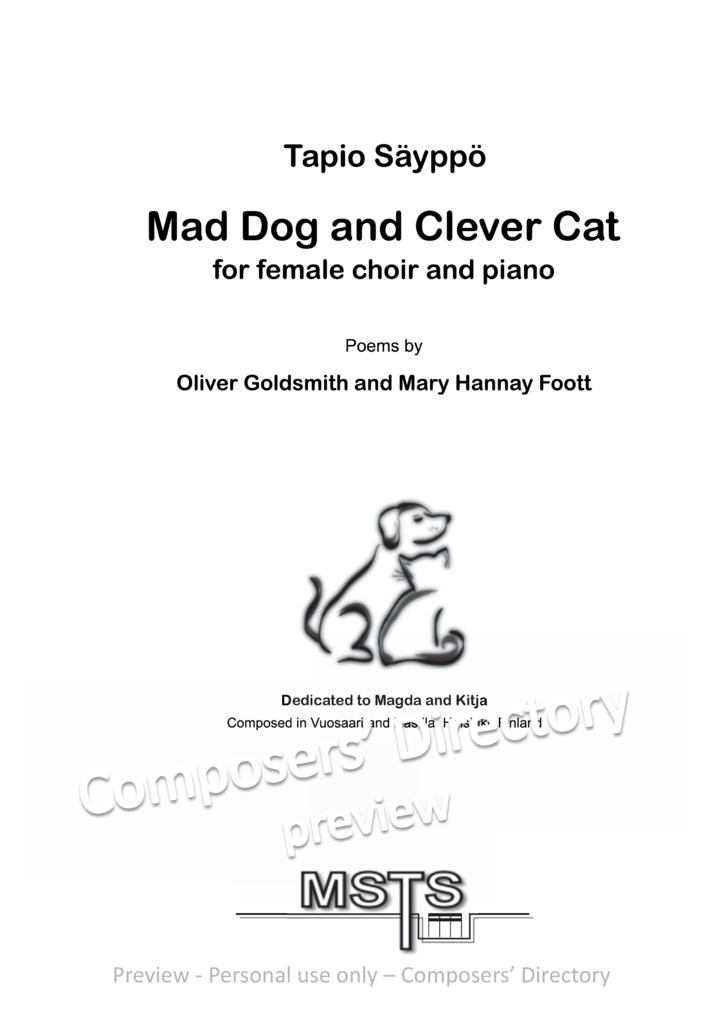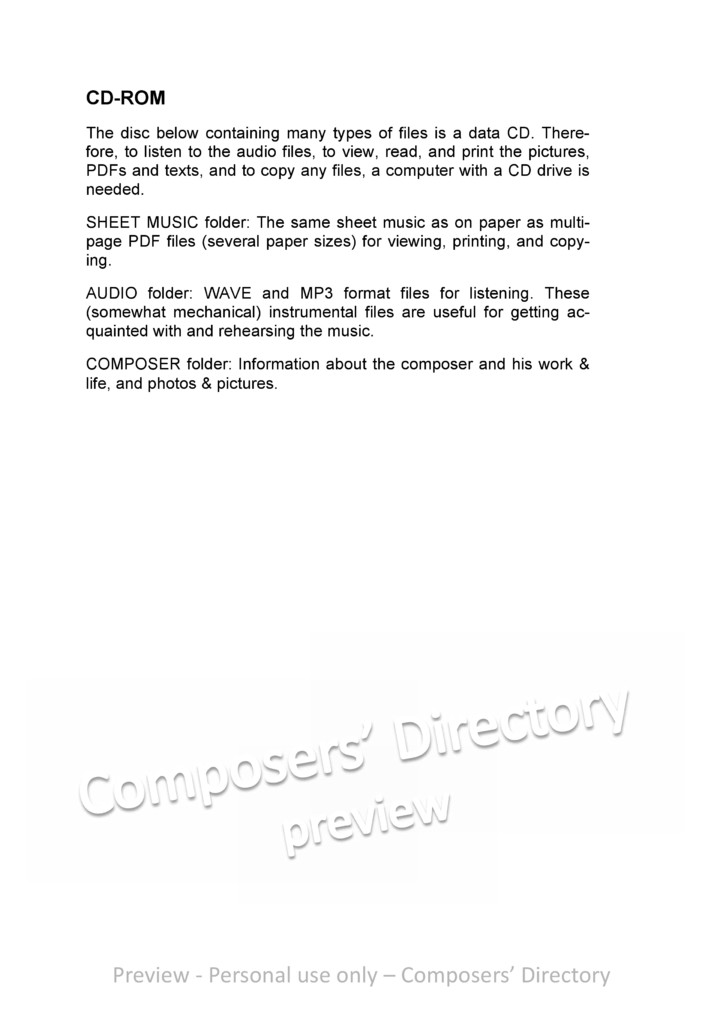 style"font-size: 14px !important;">The disc below containing many types files data There- fore, listen audio files, view, read, print pictures, PDFs an[...]
CD-ROM
The disc below containing many types files data There-fore, listen audio files, view, read, print pictures, PDFs texts, copy files, computer with drive needed.
SHEET MUSIC folder: same sheet music paper multi-page files (several paper sizes) viewing, printing, copy-ing.
AUDIO folder: WAVE format files listening. These (somewhat mechanical) instrumental files useful getting ac-quainted with rehearsing music.
COMPOSER folder: Information about composer work life, photos pictures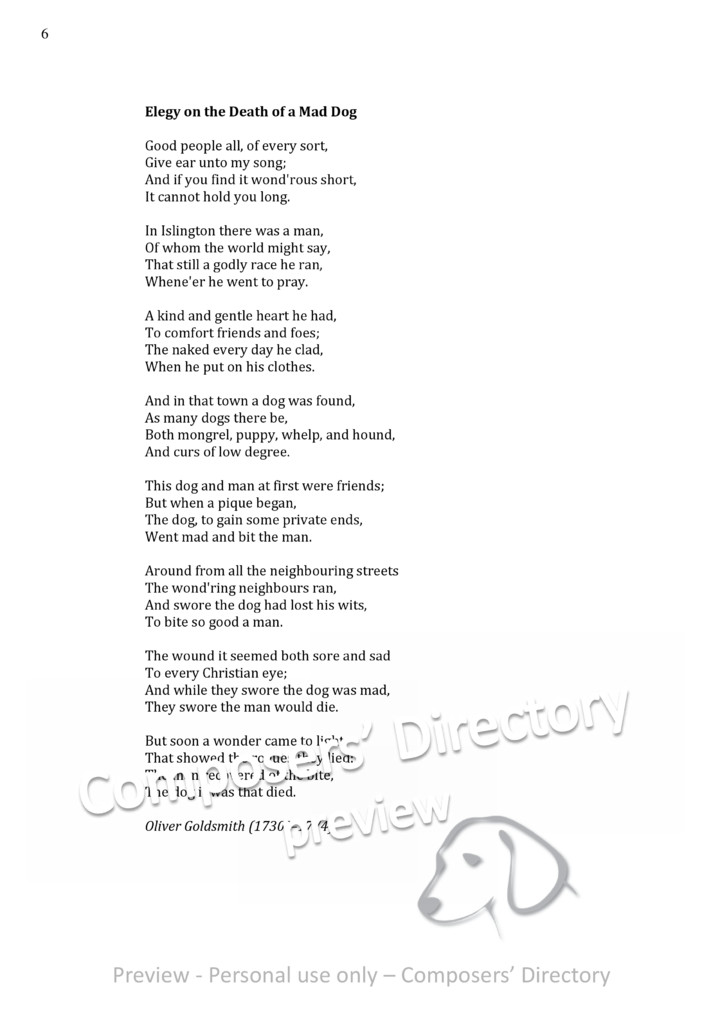 style"font-size: 14px !important;">And in that town a dog was found, And while they swore the dog was mad, 6
Elegy on the Death of a Mad Dog Good people all, of every sort, Give ear unto my song; And if you find it wond'rous short, It cannot hold you long. In Islington there was a man, Of whom the world might say, That still a godly race he ran, Whene'er he went to pray. A kind and gentle heart he had, To comfort friends and foes; The naked every day he clad, When he put on his clothes. And in that town a dog was found, As many dogs there be, Both mongrel, puppy, whelp, and hound, And curs of low degree. This dog and man at first were friends; But when a pique began, The dog, to gain some private ends, Went mad and bit the man. Around from all the neighbouring streets The wond'ring neighbours ran, And swore the dog had lost his wits, To bite so good a man. The wound it seemed both sore and sad To every Christian eye; And while they swore the dog was mad, They swore the man would die. But soon a wonder came to light, That showed the rogues they lied: The man recovered of the bite, The dog it was that died. Oliver Goldsmith (1730?–1774)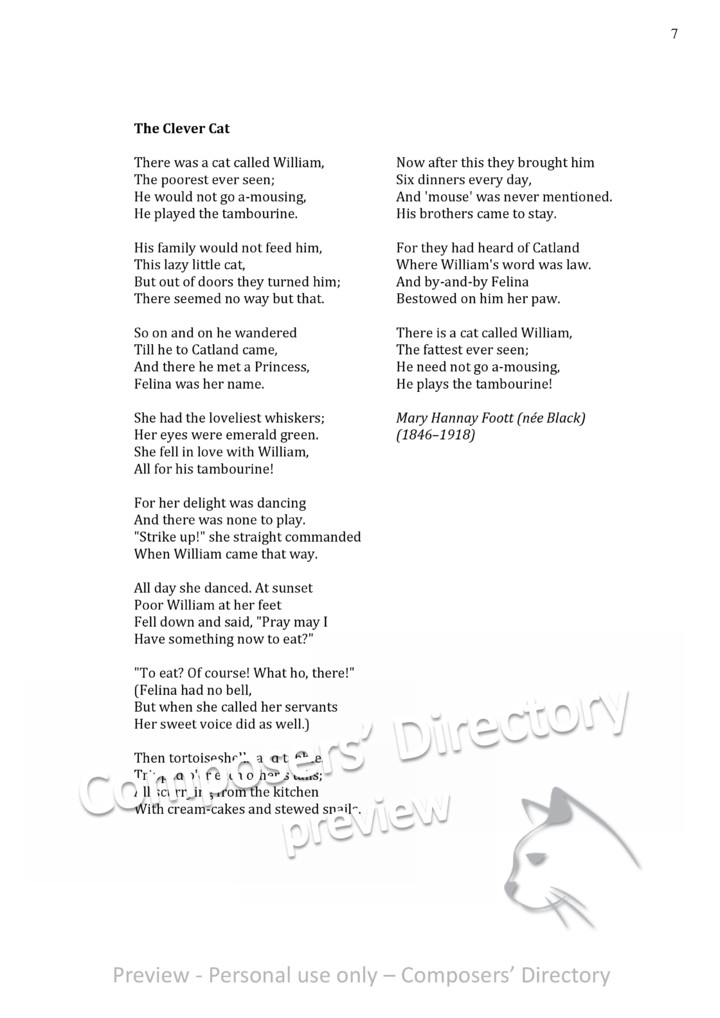 style"font-size: 14px !important;">(Felina had no bell, 7
The Clever Cat There was a cat called William, The poorest ever seen; He would not go a‐mousing, He played the tambourine. His family would not feed him, This lazy little cat, But out of doors they turned him; There seemed no way but that. So on and on he wandered Till he to Catland came, And there he met a Princess, Felina was her name. She had the loveliest whiskers; Her eyes were emerald green. She fell in love with William, All for his tambourine! For her delight was dancing And there was none to play. Strike up! she straight commanded When William came that way. All day she danced. At sunset Poor William at her feet Fell down and said, Pray may I Have something now to eat? To eat? Of course! What ho, there! (Felina had no bell, But when she called her servants Her sweet voice did as well.) Then tortoiseshells and tabbies Tripped o'er each other's tails; All scurrying from the kitchen With cream‐cakes and stewed snails. Now after this they brought him Six dinners every day, And 'mouse' was never mentioned. His brothers came to stay. For they had heard of Catland Where William's word was law. And by‐and‐by Felina Bestowed on him her paw. There is a cat called William, The fattest ever seen; He need not go a‐mousing, He plays the tambourine! Mary Hannay Foott (née Black) (1846–1918)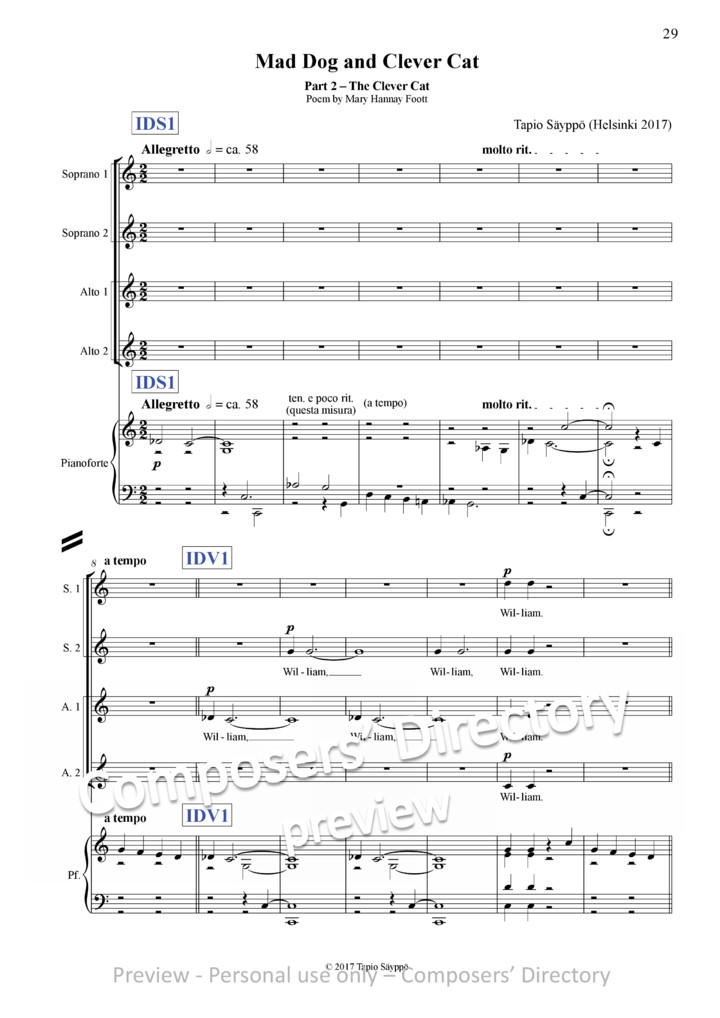 Mad Dog and Clever Cat
© 2017 Tapio Säyppö Soprano 1 Soprano 2 Alto 1 Alto 2 Pianoforte Allegretto h ca. 58 molto rit. p Allegretto h ca. 58 molto rit. S. 1 S. 2 A. 1 A. 2 Pf. Wil p liam. a tempo 8 Wil p liam, Wil liam, Wil liam. Wil p liam, Wil liam, Wil liam. Wil p liam. a tempo 22 22 22 22 22 22
Part 2 – The Clever Cat
Poem by Mary Hannay Foott IDS1
Mad Dog and Clever Cat
Tapio Säyppö (Helsinki 2017) ten. e poco rit. (questa misura) (a tempo) IDS1 IDV1 IDV1 29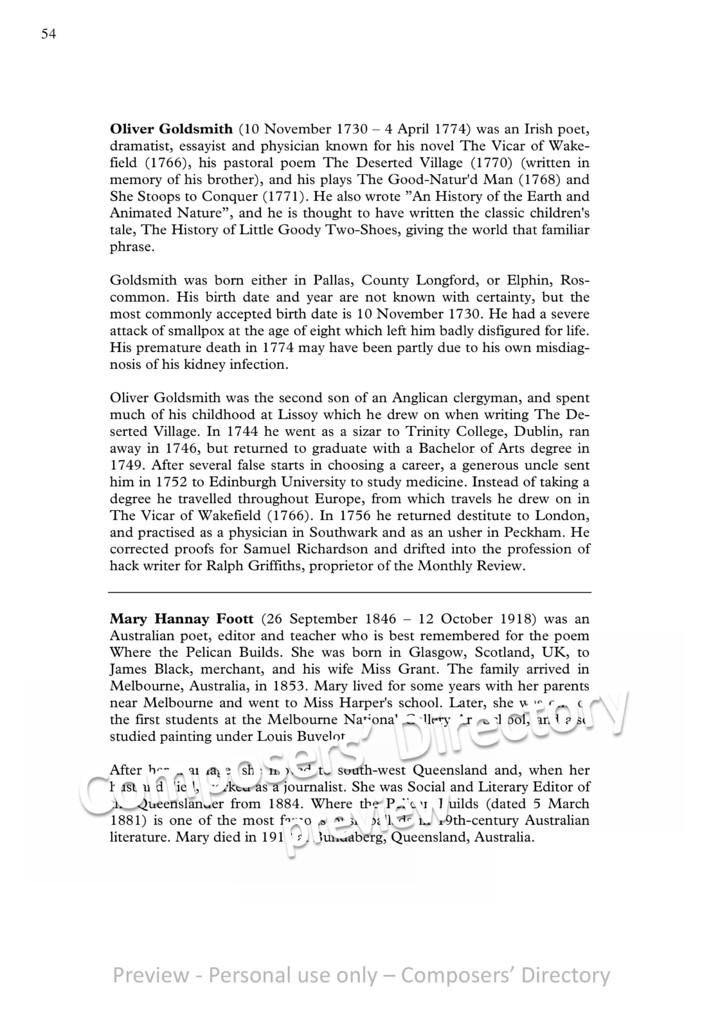 Oliver Goldsmith
(10 November 1730 – 4 April 1774) was an Irish poet,
dramatist, essayist and physician known for his novel The Vicar of Wake-field (1766), his pastoral poem The Deserted Village (1770) (written in memory of his brother), and his plays The Good-Natur'd Man (1768) and She Stoops to Conquer (1771). He also wrote "An History of the Earth and Animated Nature", and he is thought to have written the classic children's tale, The History of Little Goody Two-Shoes, giving the world that familiar phrase. Goldsmith was born either in Pallas, County Longford, or Elphin, Ros-common. His birth date and year are not known with certainty, but the most commonly accepted birth date is 10 November 1730. He had a severe attack of smallpox at the age of eight which left him badly disfigured for life. His premature death in 1774 may have been partly due to his own misdiag-nosis of his kidney infection. Oliver Goldsmith was the second son of an Anglican clergyman, and spent much of his childhood at Lissoy which he drew on when writing The De-serted Village. In 1744 he went as a sizar to Trinity College, Dublin, ran away in 1746, but returned to graduate with a Bachelor of Arts degree in 1749. After several false starts in choosing a career, a generous uncle sent him in 1752 to Edinburgh University to study medicine. Instead of taking a degree he travelled throughout Europe, from which travels he drew on in The Vicar of Wakefield (1766). In 1756 he returned destitute to London, and practised as a physician in Southwark and as an usher in Peckham. He corrected proofs for Samuel Richardson and drifted into the profession of hack writer for Ralph Griffiths, proprietor of the Monthly Review. Mary Hannay Foott
(26 September 1846 – 12 October 1918) was an
Australian poet, editor and teacher who is best remembered for the poem Where the Pelican Builds. She was born in Glasgow, Scotland, UK, to James Black, merchant, and his wife Miss Grant. The family arrived in Melbourne, Australia, in 1853. Mary lived for some years with her parents near Melbourne and went to Miss Harper's school. Later, she was one of the first students at the Melbourne National Gallery Art School, and also studied painting under Louis Buvelot. After her marriage, she moved to south-west Queensland and, when her husband died, worked as a journalist. She was Social and Literary Editor of the Queenslander from 1884. Where the Pelican Builds (dated 5 March 1881) is one of the most famous bush ballads in 19th-century Australian literature. Mary died in 1918 at Bundaberg, Queensland, Australia. 54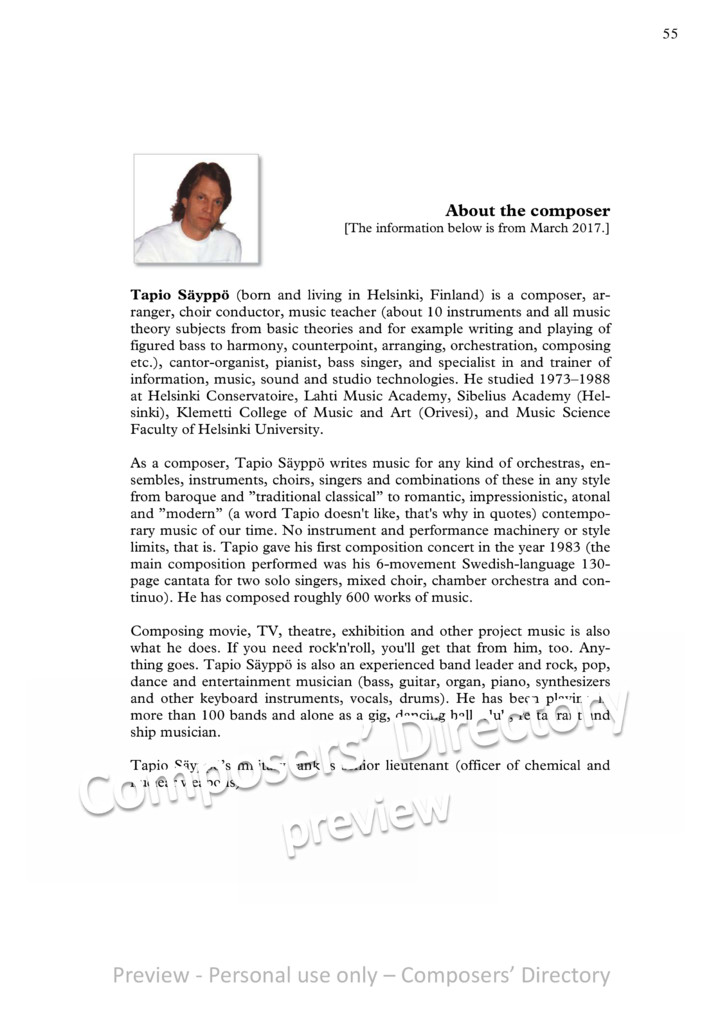 About the composer
[The information below is from March 2017.] Tapio Säyppö
(born and living in Helsinki, Finland) is a composer, ar-
ranger, choir conductor, music teacher (about 10 instruments and all music theory subjects from basic theories and for example writing and playing of figured bass to harmony, counterpoint, arranging, orchestration, composing etc.), cantor-organist, pianist, bass singer, and specialist in and trainer of information, music, sound and studio technologies. He studied 1973–1988 at Helsinki Conservatoire, Lahti Music Academy, Sibelius Academy (Hel-sinki), Klemetti College of Music and Art (Orivesi), and Music Science Faculty of Helsinki University. As a composer, Tapio Säyppö writes music for any kind of orchestras, en-sembles, instruments, choirs, singers and combinations of these in any style from baroque and "traditional classical" to romantic, impressionistic, atonal and "modern" (a word Tapio doesn't like, that's why in quotes) contempo-rary music of our time. No instrument and performance machinery or style limits, that is. Tapio gave his first composition concert in the year 1983 (the main composition performed was his 6-movement Swedish-language 130-page cantata for two solo singers, mixed choir, chamber orchestra and con-tinuo). He has composed roughly 600 works of music. Composing movie, TV, theatre, exhibition and other project music is also what he does. If you need rock'n'roll, you'll get that from him, too. Any-thing goes. Tapio Säyppö is also an experienced band leader and rock, pop, dance and entertainment musician (bass, guitar, organ, piano, synthesizers and other keyboard instruments, vocals, drums). He has been playing in more than 100 bands and alone as a gig, dancing hall, club, restaurant and ship musician. Tapio Säyppö's military rank is senior lieutenant (officer of chemical and nuclear weapons). 55