Music sheet / Partition : "vitamins" - a suite of educational music for piano by lars peter schultz
The inspiration for these pieces comes from piano pupils who can play the piano to some degree, and who can read the basic note values, but need a boost in their ability to read which tones to play when they see the notes in a staff. The pieces strengthen the pupil's knowledge and familiarity with the seven basic notes A to G in several octaves in both hands.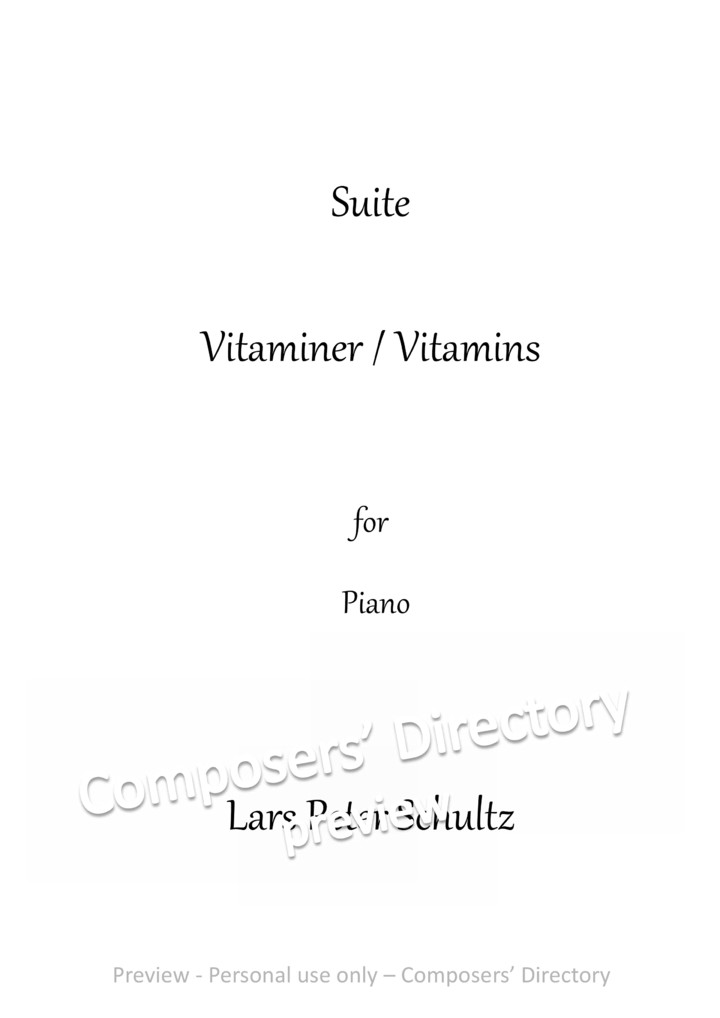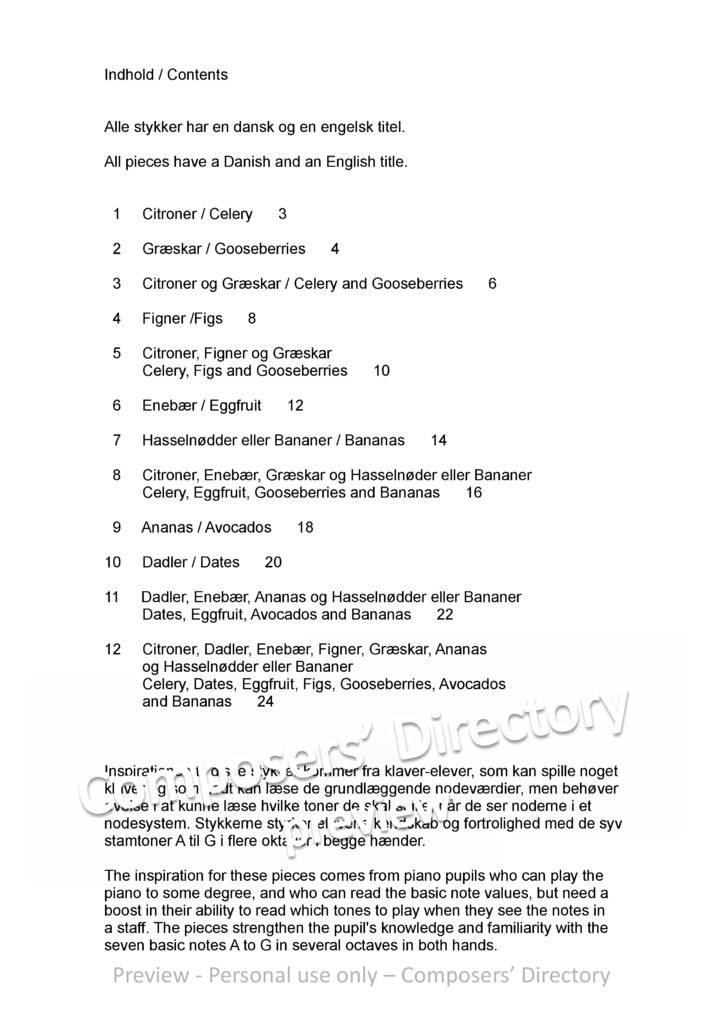 style"font-size: 14px !important;">
Indhold Contents
Alle stykker dansk engelsk titel.
All pieces have Danish English title.
Citroner Celery Græskar Gooseberries Citroner Græskar Celery Gooseberries Figner /Figs Citroner, Figner Græskar Celery, Figs Gooseberries Enebær Eggfruit 12
Hasselnødder eller Bananer Bananas Citroner, Enebær, Græskar Hasselnøder eller Bananer Celery, Eggfruit, Gooseberries Bananas Ananas Avocados Dadler Dates 20
11 Dadler, Enebær, Ananas Hasselnødder eller Bananer Dates, Eggfruit, Avocados Bananas 22
12 Citroner, Dadler, Enebær, Figner, Græskar, Ananas Hasselnødder eller Bananer Celery, Dates, Eggfruit, Figs, Gooseberries, Avocados Bananas 24
Inspirationen disse stykker kommer klaver-elever, spille nogetklaver godt læse grundlæggende nodeværdier, behøverøvelse kunne læse hvilke toner skal spille, når noderne etnodesystem. Stykkerne styrker elevens kendskab fortrolighed syvstamtoner flere oktaver begge hænder.
The inspiration these pieces comes from piano pupils play thepiano some degree, read basic note values, need aboost their ability read which tones play when they notes staff. pieces strengthen pupil's knowledge familiarity with theseven basic notes several octaves both hands.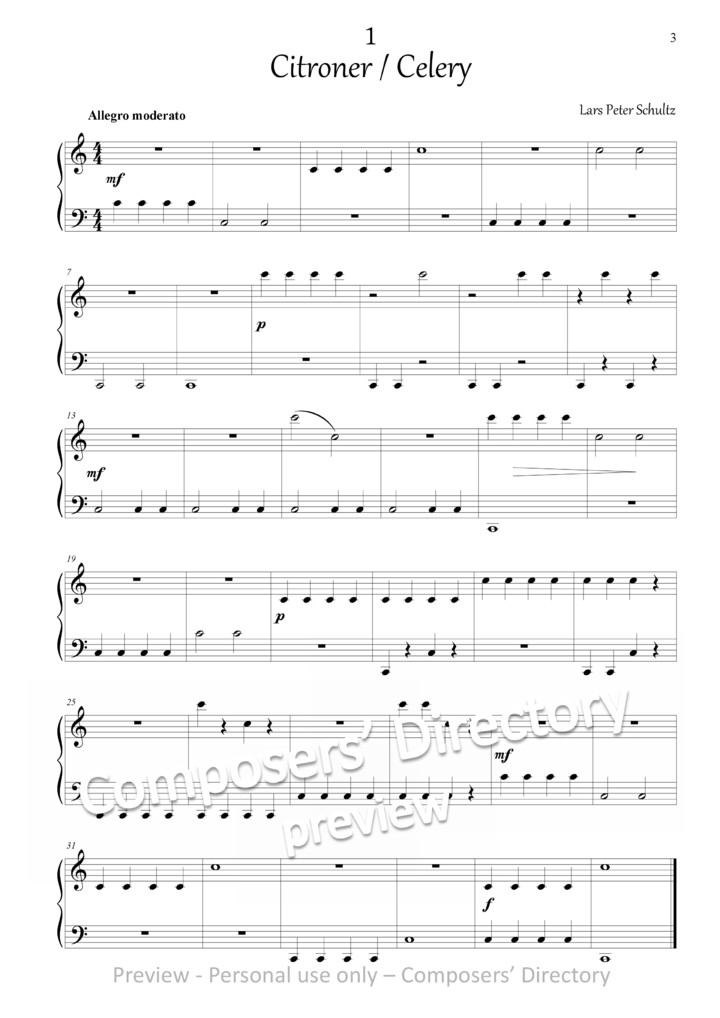 style"font-size: 14px !important;">Citroner Celery
Allegro moderato
f
w Citroner Celery Lars Peter Schultz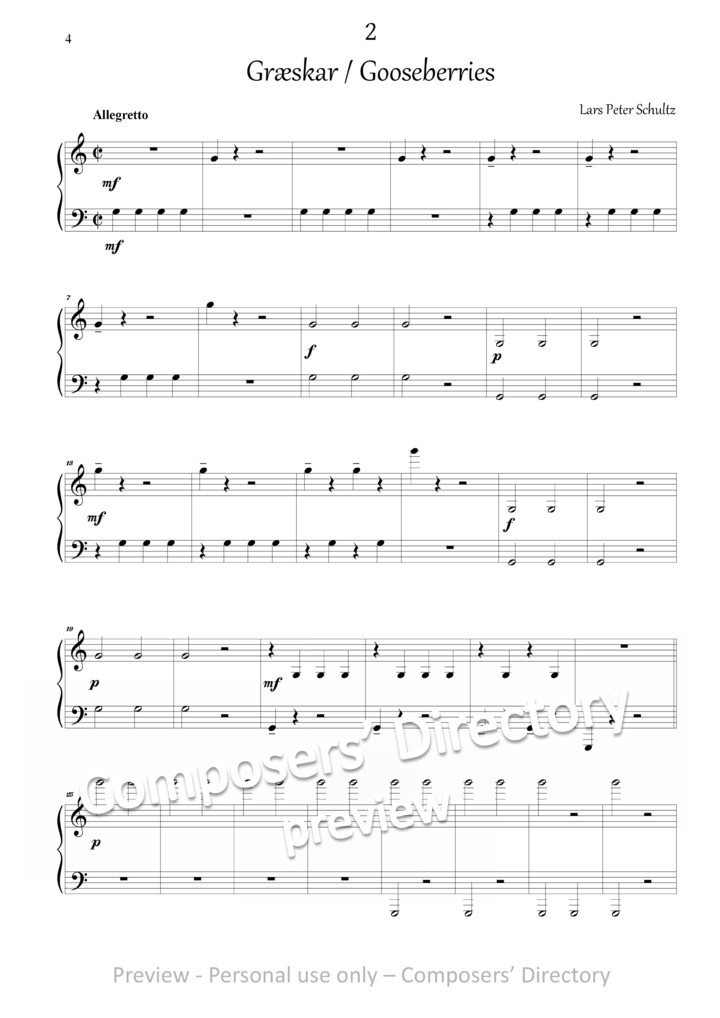 style"font-size: 14px !important;">Græskar Gooseberries
Allegretto 4
Græskar Gooseberries Lars Peter Schultz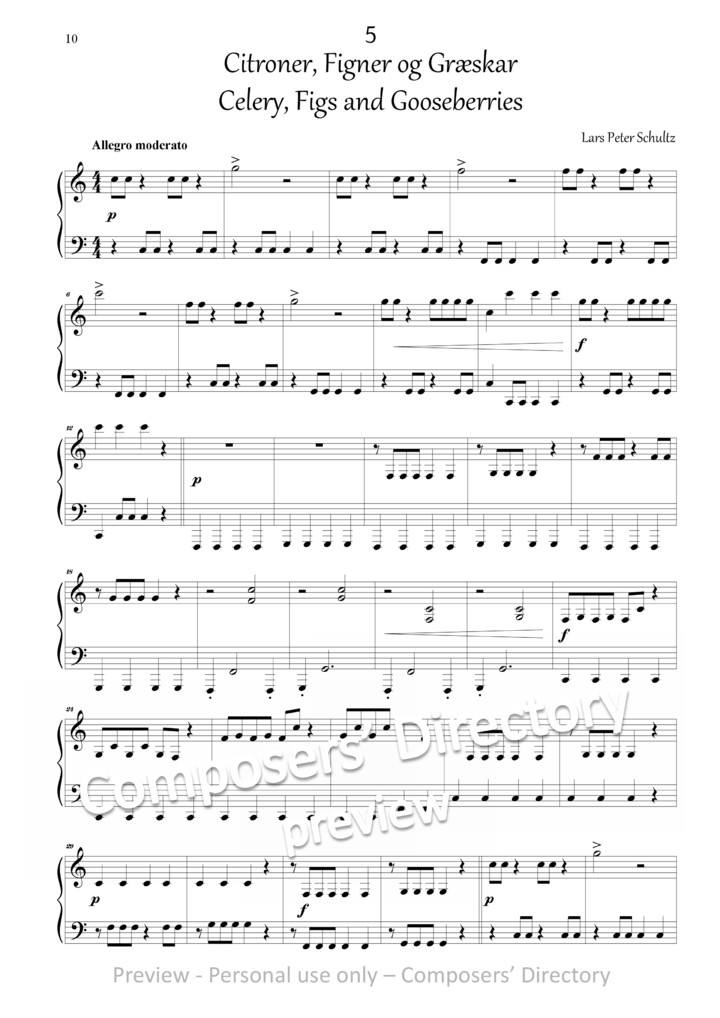 Citroner, Figner og Græskar Celery, Figs and Gooseberries
? 44 44 Allegro moderato p Ó Ó ? 6 Ó Ó f ? 12 p ‰ ‰
‰ ? 18 ‰ Ó . . Ó . . Ó . . Ó . . f ? 24 ‰ ‰ ? 29
‰ p ‰ ‰ ‰ f ‰ ‰ p Ó 10
Citroner, Figner og Græskar Lars Peter Schultz 5
Celery, Figs and Gooseberries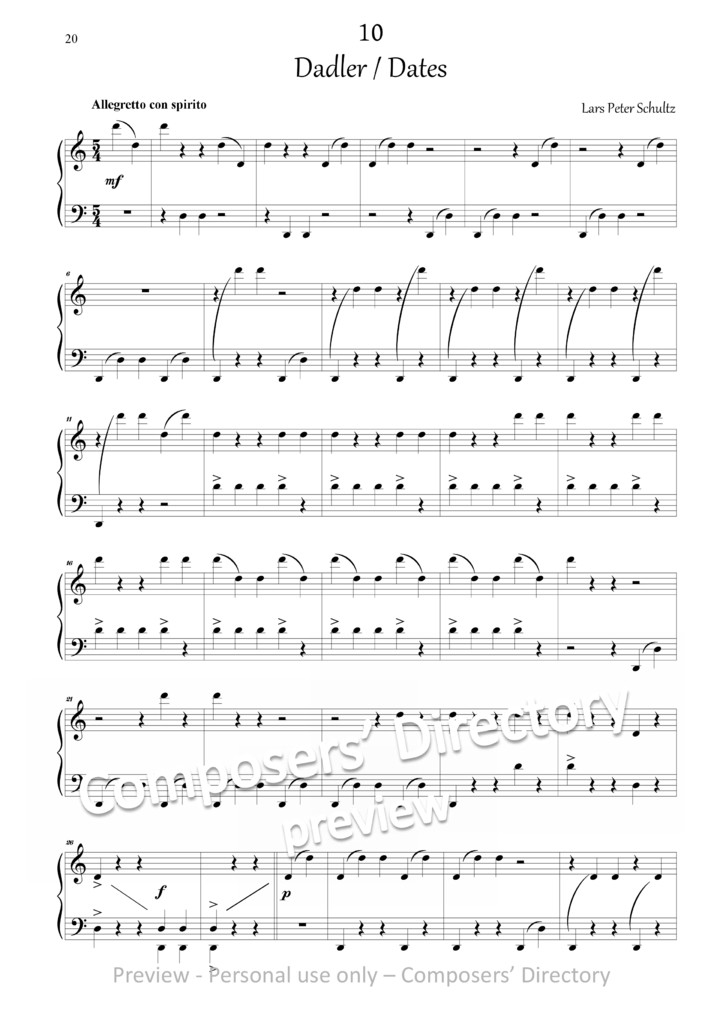 Dadler / Dates
? 45 45
Allegretto con spirito F Ó Ó Ó Ó Ó Ó Ó Ó ? 6 Ó ? 11 Ó
? 16 Ó Ó ? 21 Ó Ó Ó ? 26 f p Ó 20 Dadler / Dates Lars Peter Schultz 10